Young Voices in unison
Children from Forest and Sandridge School in Wiltshire have sung with a legendary pop star.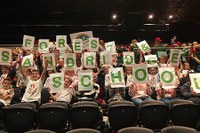 The excited Melksham pupils joined thousands of others at the Resorts World Arena in Birmingham for a showstopping performance featuring the entire auditorium.
Guest vocalists included Spandau Ballet's Tony Hadley and country duo The Shires.
View photos and video clips here
Headteacher Anna Willcox explains: "We have been preparing for Young Voices since September 2019!
"Along with thousands of other children in the UK we have been learning the songs provided by the YV team, arranged by Craig McLeish, who is the musical director.
"Not only is this an amazing experience for the children that they will treasure and remember forever but also a great way of raising money for the Teenage Cancer Trust. Over the last 20 years Young Voices has been in existence they have raised more than £250,000.
"The children were so excited about the event! They worked hard to learn the songs and all the words (we were not allowed words during the concert!) This was great for supporting determination, resilience and passion.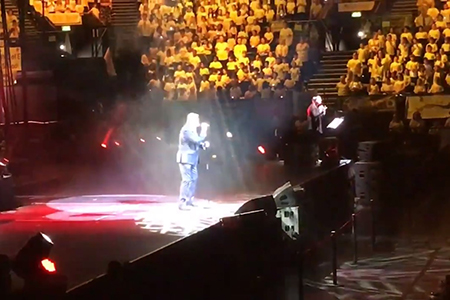 Tony Hadley leads 'Somebody to Love' from the stage
"They loved singing with the rest of the children (6,700 in attendance last night!), the young voices band as well as well-known stars such as Tony Hadley and The Shires. Our children were exhausted today… But all had smiles on their faces! Memories that will last a lifetime.
"We are very grateful for this experience to the Young Voices team. We can't wait for next year!"
View the school's Twitter feed here