Rural Hope
by glynch —
last modified

28 Apr, 2021 03:51 PM
Our diocesan programme, supported by the national church, enabling us to be a beacon diocese for the rural church across the country...
Identifying, enthusing and equipping rural leaders of the future, resourcing those who now minister in rural contexts.
 
 Click here for '

Celebrating the Seasons

' webinars and resources
 Click here for 'Journey of Faith ' webinars and resources

 
Your main contacts are:
Your Rural Field Officers are:
[Click here for more on our RFOs]
Why 'Rural Hope'?
40% of Church of England worshippers are in rural congregations. In this diocese, 90% of parishes and 50% of the population is rural. Rural church has a unique dynamic, deeply rooted in the wider community.
Large rural multi-parish benefices need particular skills, and small congregations may not have sufficient numbers of people to do all the necessary jobs. Yet clergy in the countryside have always had an incarnational ministry and continue to be an important focus in their communities.
We want to continue investing in identifying, nurturing and training rural church leaders who, working with local congregations, will take hold of mission opportunities and move into church growth – in numbers, depth and impact.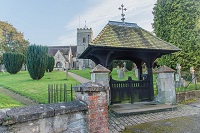 We have developed Renewing Hope through Rural Ministry and Mission building on the commitment and enthusiasm for the principles underpinning the diocesan vision Renewing Hope: Pray, Serve Grow . It is designed to identify, enthuse and equip rural leaders of the future and resources those who now minister in rural contexts.
 
The four main strands:
Rural Ministry Experience Scheme for young adults (18-30) exploring God's call to ordained ministry in a rural setting.
A Rural Training Pathway to train and equip people for the specific challenges of ordained ministry in the countryside. The Pathway has been designed in conjunction with Sarum College. Licenced lay ministers training in Sarum College will also be able to take part in the Rural placements element of this course.
Rural Placements to give serving clergy experience of rural ministry
A four-year development programme to support ordained and lay rural church leaders, in groups and as individuals as they lead their churches into growth, through local topic-based training and mentoring, seed-corn funding for mission projects and support from new local mission posts. More details here.
Frequently Asked Questions
Learn more about why we've launched the Renewing Hope through Rural Ministry and Mission programme, where our ideas came from, and what we aim to achieve in these Frequently Asked Questions (download here).
Our Programme Plan is also available (download here).
Our small but growing collection of stories intends to showcase people and parishes transformed by Rural Hope. More here.