Year 10 Students at Wyvern St Edmunds
Have you been wondering what it would be like for students returning to school in the current climate? One school shares what they have done...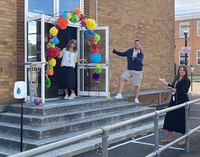 The grand entrance for returning students
Colleagues across the diocese have spent the last few weeks teaching students remotely and planning for ways to welcome them back to the school's physical building.
At the beginning of June many primary schools were able to welcome back more children - especially those in Reception and Years 1 and 6. They have been creatively working in 'bubbles' and taking it in turns to use school facilities. 
This week has seen the return to the school building for more secondary school students, with a focus on those in Years 10 and 12. They have been learning a new way to engage with their education.
One school in our diocese has shared how they have welcomed back their Year 10 students, to help guide them as they finish their first year of GCSEs.
"We were delighted to welcome the first of our Year 10 students back into school for three days of Maths, English and Science teaching as well as sessions on PSHE and Personal Development focused on health and wellbeing. 
We have had about 30 students attending our key worker hub daily since lockdown started but it was just wonderful to see year 10 students back in school too.
We put on warm welcome for them with music, bubbles and a grand entrance! Seeing them again reminds us of our Christian vision for our students. We believe that each one of them has special gift from God and of our responsibility to help them discover this and use it in the service of others as they strive to become the best version of themselves they can be."
Caroline Smith, Wyvern St Edmund's 
The DBE thanks colleagues across the diocese in secondary schools and sixth forms for the depth of care that has been taken in finalising centre grades for GCSE, EPQ, BTechs and A levels.