Water Good Idea!
Pupils at Alderbury and West Grimstead Primary School in Salisbury are discovering more about the natural world in their new outdoor classroom.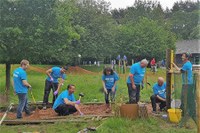 Photo courtesy 'wessexwater' on Facebook
Wessex Water says:
"We were delighted to have helped install this new space with the support of our Watermark award and Water Force staff volunteers. Our team of volunteers helped extend the school's patio, put up fencing and built a gateway to the new outdoor learning space."
If you know a community project in your area that needs a helping hand, visit the Watermark award page online.