The More We Believe, The More We Achieve
The children at St James' CE First School on the outskirts of Wimborne have created a magnificent tapestry depicting the parable of The Good Shepherd.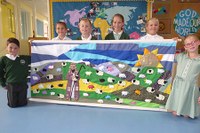 The appliqué tapestry took a number of months to make, with staff, governors, children, parents and even community members helping to make the different parts. The finished product now takes pride of place in the school hall.
Headteacher Jacqui Booth is delighted:
"We are rightly proud of the artwork our children produce, and have lots displayed around the school, but this tapestry just raises it to another level altogether."
There is an important message behind the tapestry and the work that has gone into it. The children have been learning not only about The Good Shepherd, but the deeper meaning hidden within.
"We have a vision for our children," Mrs Booth explains, "And we strive to give each and every one of them what they need to live their best lives and be the best versions of themselves."
Thanks to the Good Shepherd, the children at St James' School know:
- Everyone is special.
- We all care for each other.
- The more we believe, the more we achieve.
Three very simple statements which aim to make a very big difference.
St James' CE First School is holding its open afternoon on Wednesday 2nd October. If you would like to see the tapestry for yourself, you are most welcome from 1.30pm.