Thank you - for the way schools are making a difference in their communities
In times of 'school closure' when school leaders, teachers and their communities are very much still at work, we share some words from the Diocesan Director of Education and just one example of ways that a school is making a difference in its community.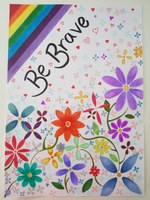 One of the Rainbow images in Dorchester drawn by a student at St Osmund's
In a recent letter to school and academy leaders, Joy Tubbs, the SDBE Director of Education, referenced the complex circumstances in which we find ourselves, and wrote to share the DBE's grateful thanks for the depth of work being undertaken in schools across the region.
In her email to school leaders she wrote, "I can only begin to imagine the complexity of your week, and thank you so very much for all that you are doing, every day in leading your school. We have become very aware of the scope and scale of your work at this time – far beyond your classroom provision for children that are vulnerable and the children of key workers. We can see the depth of compassion that is being shown by you for the communities you serve….. We know that for the majority of you, this Easter will bring little respite as so many schools remain open. We do not underestimate the demands being made on you and how hard this must be alongside the vital importance of your own family life."  
In the email, Joy explained how the DBE team continues to have very close contact with Local Authorities, through daily on-line conferencing and written briefings, and Joy herself has regular meetings (now virtual!) with the Regional Schools Commissioner (RSC) and wider regional and national leaders such as the Department for Education (DfE). She encouraged school leaders to respond and get in touch, whether it be to ask for help or to share success stories.
St Osmund's Middle School, Dorchester
In response, Saira Sawtell (Headteacher of St Osmund's Middle School, Dorchester) shared some of the work that her school is doing locally.
She explained that, "During every week of closure, the students at St. Osmund's are engaging in a Headteacher Challenge, which aims to connect them to the world whilst nourishing the school's Christian values of love, faith and hope.
This week has seen 700 rainbows of hope go up in front windows all over Dorchester, alongside letters of thank you sent to key workers all over town.
Next week's challenge is about supporting the elderly in our families from a distance. All of these challenges are on our school YouTube channel, if anyone wants to view!"
Emily White, the school's Chair of Governors, shared information about the school's local 'Food Bank' project and said "Students are using their one period of exercise a day to walk to school to drop off a donation for the community food bank. This speaks volumes about the school's ethos having impact on students and their families. The school really is at the heart of the community."
(See Dorset Echo for more about the Food Bank)
Joy Tubbs ended her email to school leaders with a prayer that had been shared with her by a DBE Trustee who is also mindful of the hard moments being faced by schools. It is shared here, in the hope that it will comfort us all in the complexity of the decisions we are making, whether they be large or small, personal or professional: 
My Christ,
My shield,
My encircler,
each day,
each night,
each light,
each dark,
be near me,
uphold me,
my treasure,
my triumph
The DBE is aware that all across the diocese, very many schools are open and/or are actively supporting their communities in creative and heartfelt ways. In the next few weeks we hope to feature some of YOUR school stories as you seek to make a difference into the communities you serve.
Please send in your school stories to emma.waters@salisbury.anglican.org or tag SDBE_Update on Twitter