Teacher of the Year Award in Poole
Congratulations replaced lessons when pupils found out their Head of History had won a Teacher of the Year Prize.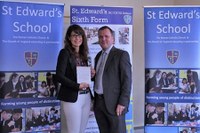 Mrs Sara Sinaguglia, who teaches at the Volunary Aided St Edward's School in Poole won a Silver Teaching Award in the category Teacher of the Year in a Secondary School, supported by SSAT.
Governors, staff and students gathered for a celebration of the presentation of the Silver Pearson National Teaching Award – presented by her headteacher Michael Antram, who said:
"We are so proud of Mrs Sinaguglia who, as Head of History, is now one of ten national finalists for the Gold Award. She will join fellow Silver Award winners at the UK's 'Oscars for Teachers' ceremony where the winner of the Gold Awards will be announced on October 20th 2019."
Mrs Sinaguglia and a guest have also been invited to the House of Commons on July 11th.
https://website.network.st-edwards.poole.sch.uk/
The Pearson National Teaching Awards is an annual celebration of exceptional teachers, founded in 1998 by Lord Puttnam to recognise the life-changing impact an inspirational teacher can have on the lives of the young people they teach – many of whom go on to train as teachers themselves.