A Tale of Peace, Love, Joy and Togetherness at Stratford-sub-Castle School
How a school's community has come together through art, prayer and generosity in unusual times.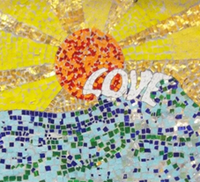 Startford-Sub-Castle CofE VC Primary School's Vision Image
As have so many, the school in Stratford-sub-Castle has been busy since the 'lockdown' began. A key priority has been to try to keep the school community 'together' while being physically apart. Through a creative art project that has involved children in school as well as those at home, the school has given reflective time (peace), shown generosity and kindness to one another (love) and brought joy.  
The Headteacher, Kay Bridson reflected that this time has been an emotional time for all working in the school. She said,
"The shock of closing the school to the majority of pupils in March is something, which will stay with all of us forever. I personally will never forget the first week of 'Lockdown'. Driving to school on Monday 23rd March was an incredibly eerie experience. That week we had eighteen children on Monday and by the Friday, we had just nine!
In school, staff and children turned to the story, 'Jesus Calms the Storm' and read it repeatedly, thinking about how anxious the disciples must have been and what could we learn from it."
In an article written for the local parish magazine, Kay wrote:
"Another 'thing' that will stay with me, is the fortitude, determination and teamwork of the staff here at the school. I am so grateful to them and so proud of them! We stayed open right through the Easter break and the Bank Holidays due to their resolve to support key workers and other priority groups and to help keep the country running."
The staff decided to embark on a creative, joyful art project to bring the school together. In it, children both at home and at school worked to create a huge 'mural' on the school fence. Based on the artwork of Kandinsky, children painted concentric circles in rainbow colours and then wrote words of reflection upon them.
Each circle reflects a member of the school community's hopes, wishes and prayers for the school as they thought about what they missed and what they love about it.
(The Concentric Circles created by staff and pupils)
The project also resulted in some of the children re-writing the school prayer to reflect these times of separation:  
Our School
This is our school wherever we are
Even though not everyone is here, let's all live happily together
May everyone part of our community be happy and feel close
May everyone learn together no matter how far apart
May learning happen in our school and at home
May hope be among us every day
May love dwell here everywhere among us every day
Love of one another
Love of life itself
And love of God
Let us remember
To thank the NHS and all key workers
And that as many hands build a house
So everyone can make this school
A safe, loving and hopeful place.
Amen
Is this the end of the story? No!
On one day in June, two parents came to the office and requested that Kay and the deputy head, Justine Watkins came outside. What awaited them, was a true reflection of the kindness and love that the community expresses towards the school. Kay takes up the story:
"This was the beginning of only our second week of 'wider opening' under 'COVID conditions'! With thoughts of hand-gel, social distancing and bubbles rattling through our brains, we made our way outside. What could be happening? Was it bad news? We braced ourselves! ..."
What greeted their eyes were gift bags - personalised for each member of staff; picnic hampers including delicious cheese scones, and pamper hampers. The generous gift from parents included cards full of thanks and £165 for the staff to spend on the school, as they wished. It was a very special delivery, indeed!
(Kay Bridson, Headteacher and Justine Watkins, Deputy Head with the gifts from parents)
Now that government advice has allowed it, the school is welcoming more and more pupils back. Kay reports that parents have been extremely understanding and thoughtful of other families' needs which means that some parents have changed and adapted their childcare plans so that as many children as possible have been able to come to school for a day or two before the end of term.  
With the news that the DfE is not intending to ask (or fund) schools to remain open over the summer period for the children of critical workers, this means that staff will be able to recharge their batteries for September.
Whilst the staff do not know what September will bring, or the rules the school will be working to by then, one thing is for certain, that staff will still be wearing and using the beautiful hand gel holders, so lovingly made by a parent and given to the team in their personalised gift bags!
To see the school's art project and to read their newsletters click here.