Students Thriving and Growing during Lockdown
How schools have been encouraging their students to not only survive but to thrive.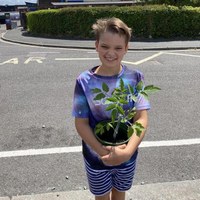 Oscar from St Osmund's CE Middle School in Dorchester with his tomato plant
Saira Sawtell, the headteacher at St Osmund's,  has been setting a weekly headteacher challenge throughout lockdown. The school especially encourages the development of the Christian values of faith, hope and love and staff work to inspire students to be active life-long learners who contribute positively to the world.  
The first headteacher challenge was to do something positive in the time lockdown has allowed. The challenge encouraged students to think about learning a new skill, participating in a family project or creating something new.
Oscar in Year 7 decided to build vegetable plots out of wood using hand tools. which has enabled him to grow peas, runner beans, tomatoes, courgettes, spring onions and more, as well as growing more plants in the family's greenhouse. the vegetables have been used by his brother to cook meals for the whole family.
Oscar's mum, Michelle, said:
"He loves the outdoors, so when the headteacher challenge was for something positive to come out of lockdown, he decided to grow his own vegetables. We have always liked buying things fresh and when we couldn't go to the shops because of lockdown he wanted to grow his own and use them for cooking.
He made a Bolognese with spinach and carrots he grew and his peas are nearly ready as well. He grew some tomatoes and took them into school. He built the plot himself with wood and tools and some help from his dad."
Michelle also said that Oscar has never tried gardening at school before, but it is something he is looking forward to when he gets back as there is a school garden for growing vegetables.
Saira Sawtell added:
"This week Oscar has donated many tomato plants to our school garden. He even brought in one tomato plant especially for me - but I have planted it in the school garden for proper care as I do not have green fingers.
"This has been such a good example of a young person being creative, nurturing something, learning new skills and knowledge and using lockdown well. We do hope to have his input into our school garden when he is back."
This is such a lovely example of a young person thriving during lockdown. If you have tried something new during lockdown with your school why not contact us and let us know? We really enjoy hearing the creative ways that schools are living out their Christian vision, so do send in your school's story!
Contact Emma Waters (emma.waters@salisbury.anglican.org) for more information.