Stepping back in time at the Great Dorset Steam Fair
Year 5 Milldown CE Academy school children from Blandford experienced a poignant tour of the highly acclaimed onsite WW1 display at the Great Dorset Steam Fair.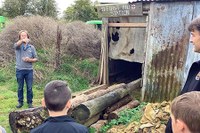 On Monday 30th of September 2019, the children were special guests of Managing Director Martin Oliver.
Curator Rowlie Moores explained to the children about trench warfare with all children mesmerised by the surroundings and atmosphere staged at Tarrant Hinton.
Martin Oliver whole heartedly supports education through demonstrations; indeed, it is the very ethos of the annual show. "I was happy to help when Milldown staff approached me following this year's show, we are very lucky to have such an incredible display."
James Tucker, Deputy Headteacher at Milldown CE Academy, said, "We had an amazing time visiting the Great Dorset Steam Fair's World War 1 trenches and bunkers and finding out lots of facts from the World War 1 Section Leader, Rowlie Moores.
"One pupil said, 'This is the best thing ever, it's like we're really there [on the front line]'. We were also impressed by how much knowledge the children already had about World War 1. Thank you for a lovely morning Martin and all your team at the show."
The Great Dorset Steam Fair will next take place from Thursday 27th August to Monday 31st August 2020 in Tarrant Hinton.