St Mary's school prepares for the Nativity
St Mary's in Broughton Gifford have had good fun getting in the festive spirit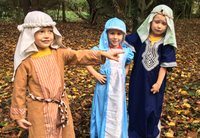 Children acting out their parts of the nativity in the woods.
As one of the many schools across the Diocese, St Mary's School in Broughton Gifford are getting ready for the festive season. This year many festive celebrations will look different, however this doesn't stop the spirit of Christmas and the story of the birth of Jesus being told.
The school have recently rehearsed and prepared themselves for their part in the nativity as a part of the South West Carols festival, which will be running on the 5th and 6th December at 7pm. 
Mrs Pauline Orchard, the headteacher of St Mary's said;
The children at St Mary's enjoyed the opportunity to take part in the SW carols this year.  There was lots of excitement as they changed into costumes and got ready to retell the nativity story.  They were keen to see the finished videos - we are all looking forward to the beginning of Dec to watch the production.
It is lovely to see children and young people still getting involved with traditional Christmas activities. We are looking forward to seeing the Service too.
If you would like to find out more about the South West Carols and Nativity festival please go to the website - here.