Respect for values
Seend CE School has found a distinctive approach to teaching values, as Headteacher Jackie Chalk explains.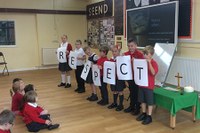 "All term, the focus of whole school and class worship has been the Christian value of Respect, which is also one of the school's values. It is not the first time this value has been a focus for worship so we wanted to look at it in a different way, to keep it fresh and meaningful.
"Each worship has followed a similar pattern: children enter the hall to a relevant song - Aretha Franklin's 'RESPECT', Erasure's 'A little Respect', Marvin Gaye's 'Mercy Mercy Me' are just some of them - with a question on the screen encouraging them to reflect on how they have shown respect the previous week. Some examples then get shared.
"Children have time with their talk partners to discuss words and phrases which start with the letter for that day, and to come up with examples of what respect looks like in everyday life.
"A few examples are again shared, discussed further if needed, and written up. It has developed over the weeks as children have more contributions than time allows during worship, so now, as children leave to return to class, some 15 or so children come up to the front and write up their ideas that weren't shared. A selection of these are then included in the display, which has grown in content each week.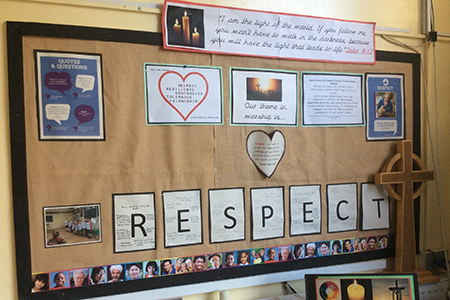 "We have found it to be a great way of the children demonstrating their understanding of the value and sharing ideas with, and learning from, each other.
"In our celebration worship each Friday, as well as the children who have been nominated by staff, other children have taken to making nominations of other children. Often it is for showing an example of respect towards either them or another child, which shows the impact of our worship and their acknowledgement that this is something to be celebrated.
"In fact, the week when it was the letter P, I was at a meeting, so I couldn't lead worship. Our Head Boy and Head girl, who lead Friday's celebration worship, took over and followed the same format – and you can see the results on that letter."
View all Seend School's tweets here
The school has also named houses after key values and inspirational people. The first house name to be revealed was Attenborough (David), representing the core value of 'Respect', not least given his emphasis on environmental awareness.