Pupils "proud of their School"
A Dorset church school where Ofsted inspectors described pupils as "proud of their school" has come out of special measures.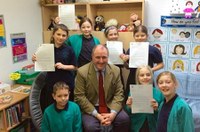 Year 5 Pupils with Simon Hoare MP
Pupils and staff at Blandford St Mary Primary School are celebrating following their recent Ofsted re-inspection that brought a judgement of 'Good' across all areas.
In the report released this week, Her Majesty's Inspector (HMI) said:
"Leaders have relentlessly and successfully tackled the weaknesses seen at the previous inspection. As a result, the quality of teaching, learning and assessment is now good.
"Pupils are proud of their school. They rise to the challenge, 'to be the best I can be'."
The school, which was placed in Special Measures after an inspection in March 2017, has shown considerable capacity for improvement.
The report continues to state: "Leaders are ambitious for the school and drive improvements forward with enthusiasm. Their accurate evaluations successfully identify next steps."
In all key areas, the school has been judged as 'Good' and the report details the sustained improvements that have taken place.
"The improvements made by the school are reflected in better outcomes for pupils. When they leave, pupils are equipped with the skills they need for their next step in their education.
"The focus throughout the school on developing good attitudes towards learning encourages pupils to become confident and independent. They are proud of their work and recognise the progress they make over time."
Headteacher Daniel Lasbury-Carter commented:
"I am immensely and overwhelmingly proud of the report and the progress the school has made. The pupils, teachers, teaching assistants, support staff and governors have all worked above and beyond to turn the school around, achieve this recognition and deserve the praise in this report.
"We are all very proud of our pupils in the school and to know that we are offering as many opportunities for each of them to thrive continues to be our main aim and motivation. This report is absolutely everything the school, its pupils and community deserve!"