New School Leaders Welcomed
The team at the Diocesan Board of Education (DBE) was delighted to welcome 12 school leaders new to their school's headship for a morning of training, which concluded with a Commissioning Service led by Bishop Andrew.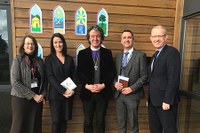 The morning session focussed on how leaders can build school improvement through the living out of their school's Christian vision. Learning from Simon Sinek's 'What is your Why?' the course explored how our motivation and beliefs are central to what we do. By keeping our 'why' at the heart of our work, we can hold steady to our core purpose and build up reservoirs of hope to sustain us through times of challenge.
Resources and discussion centred on building well-being, fostering impactful and supportive relationships and using the Church of England's Ethos Enhancing Outcomes resources.

Key points for discussion included how school leaders model Christian vision and values in their work and through worship. Also, how the DBE and clergy can support the growing understanding of what it means for headteachers to be 'lay spiritual leaders' in their school or academy setting.

During the commissioning service, leaders stood together in worship and received a gift and a blessing by Bishop Andrew - a moving experience for all. The short service asked God to support the newly commissioned leaders and every person present pledged to encourage one another in their work.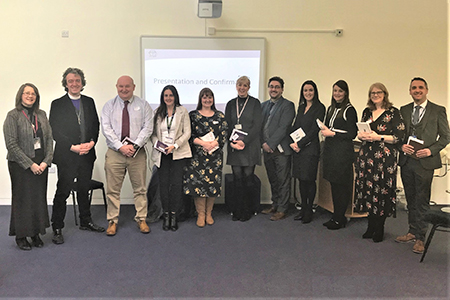 The morning ended with photographs and a shared lunch to celebrate the occasion.
Caroline Whittaker of the New Forest CE VA Primary School said:
"Pease pass on my thanks to the Bishop and the rest of the team who organised the commissioning service. It is really nice to know I am part of a loving and caring community!"

Daniel Lasbury Carter of Blandford Archbishop Wake CE VA Primary School said:
"Thank you for the commissioning service yesterday. I thoroughly enjoyed it and it was a lovely occasion."