Making a splash and jumping long
Two Poole schoolboys are celebrating national wins in atheltics and swimming.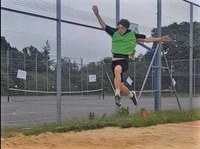 Long jumper Alfie Why has qualified for the English Schools Athletic Association (ESAA) national championships in July, despite only training in the sport for a short period of time.
Alfie, currently in Year 9 at St Edward's School in Poole, qualified by winning the South West competition in Exeter where he represented Dorset in June with a huge jump of 6.15m. At the time, this was the 3rd furthest jump in the country for his age.
Previously, he won the Long Jump event at the Poole and East Dorset School Sports Association (PEDSSA) meet in May, before going on to the Dorset County Championships in June, where he won again, with a jump of 5.55m.
Sam Pope, PE Subject Leader at St. Edward's School said, "Alfie's development in the Long Jump is remarkable considering he has had no formal training in the event. He has taken to it like a natural. We will be roaring him on at the finals!"
Alfie will compete in the English Schools Athletic Association national championships in Birmingham on July 13th.
Meanwhile, fellow St Edward's School pupil Luca Sartorius has made a splash at the South West Regional Swimming Championships.
The Year 7 student from Poole qualified for the finals of 15 events, and entered 13, coming away with an impressive haul of 3 Gold, 3 Silver, and 1 Bronze medal.
His results enabled him to retain his British number one ranking for the 50m and 100m Butterfly, and moved into the Top 10 for the majority of the other events he competed in. Not only that, but Luca is now ranked British number 14 all-time in the Age 12 category for the 50m Butterfly.
St Edward's PE staff are thrilled to learn that Luca's success means that he has been selected for training with the Swim England Regional Pathway, and encourage him to continue with his remarkable swimming career.