Making a Dent with an Egg
Special Easter eggs and handmade cards are one Dorset school's way of making a 'Dent in Loneliness' this Easter.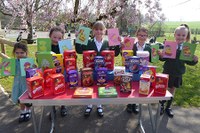 The "Dent" initiative, launched by the Share a Miracle campaign which looks to transform local communities through simple acts of kindness, was an inspiration to families at St James' First School, Gaunts Common.
Pupils from the school embraced the campaign's suggestion to deliver Easter eggs and cards to bring joy to people within the local community.
Mrs Jacqui Booth, Headteacher at the school, which was judged as outstanding in its last church inspection, passionately believes they can make a difference:
"As soon as we heard about the initiative we knew we needed take part but we also wanted to make a difference for more than just one day. We hope that by reaching out, we can make a long term difference to at least one person and hopefully many more."
And as soon as the plea went out, the school was inundated with chocolate eggs and children set to work making handmade cards to accompany them. The school then reached out to local community members who kindly delivered the eggs and cards to deserving residents.
"St James' has taken the project one step further and invited recipients of the eggs to make contact with them to join them in future events and become long term friends of the school.
"We expect to deliver 41 eggs and make a difference to 41 people." Jacqui said.