Lunching in Lent
A revolving catering team of year groups from one Dorset school has raised over £500 with their Lent Lunches for Christian Aid's Sudan Appeal.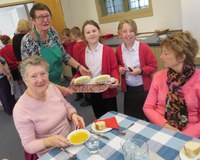 This week, it was the turn of the Year 4 pupils from St Mary's First School West Moors, and the nine-year-olds served their home made soups to their local community.
Mrs Gillian Clarke, one of the recipients of the soup lunch, said:
"The venue was St Mary's Church and there is a different team each week, so the whole year group takes part.
"There was great team work and this is now a real highlight in both the school and church calendars.
"It was a lunch of delicious home-made soups, lots of talking and interaction between those there - and no spilt soup!"