Lilliput's big vision of love, respect and service
Lilliput Church of England Infant School has gained Excellent plaudits in a recent inspection.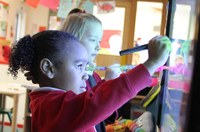 Photo from the school website
SIAMS* Inspector David Hatrey noted, "Pupils' attitudes to learning have been transformed, inspired by the vision to achieve their God given potential and exceptionally high academic standards.
"There is an inspirational culture of innovation supported by outstanding partnerships which empower staff to research and develop highly creative approaches to teaching and learning.
"Leaders at all levels are passionate and dedicated to the vision of a church school, relentless in finding highly creative approaches to meet pupils' needs.
"The pupils' school council takes an active role in planning themes for worship, however, there are insufficient opportunities for them to plan and lead worship."
The school's Christian vision, 'Loving one another, respecting one another, serving one another' is based on the Bible verse Romans 12:10 - 'Love one another warmly as Christians, and be eager to show respect for one another'.
Revd Hatrey said, "The vision shapes and enthuses the life of the school where all are recognised as being special, helping to create deep relationships within a rich warm community."
Headteacher Christine Chambers says, "We are delighted that we have been identified as an Excellent School. We have taken on board the areas for development highlighted and will be working on these improvements."
The school plans to provide further opportunities for pupils to plan, lead and evaluate collective worship, to develop their skills and confidence. Identify progressive experiences which nurture pupils' spiritual development enabling them to express their deep thinking in creative ways.
Lilliput is an Infant school with 358 pupils on roll. The majority of pupils come from a White British heritage. The proportion of pupils who speak English as an additional language is in line with national averages. The proportion of pupils who are considered to be disadvantaged is below national averages. The proportion of pupils who have special educational needs and/or disabilities is below national averages. The school became part of the Harbourside Learning Partnership Multi-Academy Trust in July 2016.
*Statutory Inspection of Anglican and. Methodist Schools