'Learning Alongside' in British Science Week
A number of our schools recently ran conferences, taster sessions and workshops, some involving parents, to encourage science and engineering skills.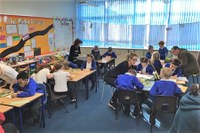 Photo courtesy Southbroom St James Academy
Sarum Academy, Wyvern College and St Edmunds' Girls' School ran a joint week looking at a dizzying variety of topics and Bishop Wordsworth's School ran a STEAM* Conference, welcoming over 20 Scientists, Engineers, Geologists, Psychologists, Mathematicians who delivered talks and workshops to Years 10 to 13.
Sarum Academy's Executive Headteacher Sarah Busby said, "There was a whole range of activities on offer and students from the secondary schools in Magna learning Partnership took part. The schools involved were The Trafalgar School, Sarum Academy, Wyvern College and St Edmund's Girls School.
"Students took part in titration experiments, dissected brains and testicles (!) and made ice cream amongst other activities. The event was co-ordinated by Kathryn Evans, associate Senior Leader at Wyvern St Edmund's.
"In addition a Science Fair took place at the Trafalgar School for parents and students and many other activities were ongoing to celebrate the week at Sarum Academy."
Dr Emma Baker, Director of Science and Head of Chemistry at Bishop Wordsworth's School said:
"We had a range of activities here at school organised for the boys as detailed below.
"A mixed aged Chemistry team took part on the Royal Society of Chemistry Top of the Bench final at the University of Birmingham – the final involved all 34 regional team winners and the Bishop Wordsworth's team took first prize at this National final.
"There were lunchtime activities for boys, including the dissection of owl pellets, slime making, Periodic Table Bingo and a tunnel challenge. There was a BWS Biology bake off competition with boy making cakes with a Biology theme which were then sold off with money being donated to charities supported by some of our recent BAYS Science Forum speakers.
"The STEAM day involved two Keynote talks attended by over 350 Year 10, Year 12 and Year 13 students with the Year 12 students then attending two of the workshops which were delivered by scientists from a range of disciplines: engineers, an oceanographer, an investment banker, a psychologist and an architect.
"A number of boys undertook the Physics Olympiad competition, there were Science presentations to the middle school boys by our Year 13 Science prefects, and the debating group held a Science themed debate.
"We had a really busy week and look forward to celebrating Science week next year."
Southbroom St James in Devizes ran sessions involving parents, joined in wider sessions, and invited guest organisations to their 200-pupil school.
Head of School Gareth Bailey said:
"We ran a number of things as part of something called 'Learning Alongside'. Parents wanted to be part of our wider curriculum, so they joined in.
"As part of that, Year 3s dissected part of a daffodil and looked at the resulting coloured water. Year 4s were trying to get away from stereotypical ideas of what a scientist looks like - it could be any one of us!
"We also joined events at Devizes Secondary School, discussing sky ocean rescue and the role played by marine biologists and other scientists. We looked at recyclable goods, and use of different materials for toothbrushes other than just plastics.
"A group called Fun Science ran a science club and led an assembly as well.
"Staff-wise, we introduced 'Reach Out CPD<https://www.reachoutcpd.com/>', a website where you can search by topics such as rocks, take a quiz and upskill yourself.
"We've recently revised the school's vision - we belong, we believe, we flourish - making the point that each one of us can, in different ways. Looking wider afield, it's broadening their views beyond Devizes and thinking, 'I think I could be 'that', and 'that' is possible."
*Science, Technology, Engineering, Art, and Mathematics