Holding Hands Across the Earth
Trent Young's CE School in Dorset has sent a unique interfaith message of support to a school on the other side of the world.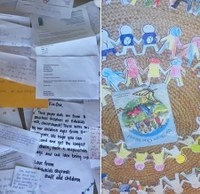 Photo courtesy Trent Young's on Twitter
In the wake of the Christchurch mosque shootings, School pupils Dan and Emily started the Paper Doll project in the Bay of Plenty in New Zealand.
Trent Young's participated, along with a number of schools from the Commonwealth and beyond.
Headteacher Sherril Atkins says, "Our paper dolls arrived safely in New Zealand! We sent prayers and messages of support to a school there where children started 'The Paper Doll' project in the wake of the Christchurch Mosque shootings to show the world that the shooter's actions don't define their country."
School pupils Dan and Emily say, "We welcome everyone to take part in The Paper Doll Project, with the goal set to "create the longest paper doll chain ever". The world record paper doll chain stands at over 8.5km long - given the support for the project so far, we're hopeful we can beat this record!"
www.facebook.com/pg/thepaperdollproject/about