Giving a Helping Hand
Furloughed colleagues who would normally be working at the Diocesan Education Centre in Wilton have turned their hands to helping others. From sewing to calling vulnerable people or making videos to spread positive messages, read on to see what some of them have been up to.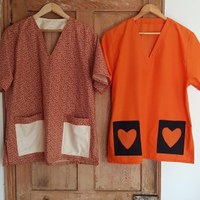 Scrubs sewn by Clare
Pam Clemett, the DBE's Education Services Assistant for governance is supporting 'Serve On' which is a humanitarian response charity whose dedicated volunteers help communities in their hour of need, at home or abroad.
Serve On was set up to give new purpose to former military personnel, but volunteers come from all walks of life and the Salisbury Office is now opposite the Diocesan Education Centre (DEC) in Wilton.
Working through Community Resilience Teams, Serve On workers are stepping in to support where needed. Activities include delivering personal protective gear to care homes and getting in touch with vulnerable families in the local area.
See here for more information about Serve On.
Clare Lloyd, one of the most recent colleagues to join the DBE as Education Services Assistant for Courses, is  putting her hands to work as part of Tisbury Miracle Makers producing scrubs for local nursing homes and Salisbury District Hospital.
In a recent Zoom 'staff catch up' she shared that she was short of fabric last week, but, following a plea to family and friends she is now fully stocked with sheets, duvet covers, curtains and pillow cases, so her target of several more sets of scrubs this week is now possible!
The group are also making masks and ear protectors for key workers and Clare said, "We have had some lovely feedback and it has been great to see people wearing the items we have made."
Read more here or see their work and join in on Facebook here.
Chelsea Sowden, who many of you may have met at the Reception desk at the DEC, has used her IT skills to help share messages of positivity and joy at Broomfield Hospital in The Mid Essex Hospital Trust.
Chelsea's mum, who works there, has been sharing positive stories of those who have been able to go home after being brought into the hospital suffering with Covid-19. Two big hearts covered with rainbows which each represent a patient who has been nursed back to health are pride of place in the foyer and feature in the video that Chelsea helped put together. In it, teams across the hospital dance to the song, 'I'll be there for you'.
Chelsea said, "It has been really great to help re-connect mum's colleagues who all work different shifts and have been missing one another."
While we miss our colleagues at the Diocesan Board of Education, we are so glad to hear of the way that they are actively working in their communities to transform lives by serving others.