Generosity and Appreciation
Seend CE School's annual sponsored walk has raised £628 this year.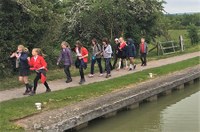 Photo courtesy @SeendSchool on Twitter
Headteacher Jackie Chalk explains:
"The KS2 children walk a 5-mile circuit along the canal and the KS1 children walk about 2 miles, all in small groups with staff and parents.
"During a worship time, when this walk was discussed, a girl in Year 4 suggested that we split the money this year and keep half for the school and share the other with a charity.
"After much deliberation, we have actually chosen to split the money 3 ways, so one third will go to the Charitable Foundation for the Education of Nepalese Children, a charity we have already supported by sending two large boxes of reading books that had been replaced in our library.
"One third will go to Triumph School in Ghana, which is a school we have newly created a link with through one of our Foundation Governors. The children in Year 5 and 6 have recently sent off initial letters to tell them about the school so we can begin to learn about some cultural differences.
"Our vision statement reflects our commitment to generosity and appreciating diversity and these are 2 examples of this work in action, made all the better that the intial idea came from a child."