Collective worship virtual training enjoyed by all!
The training the SDBE would have usually conducted in person has been moved to a virtual platform to help aid the continual professional development of our Collective Worship leads in schools across the diocese.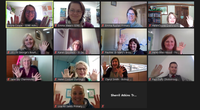 The training was led by Nicola Coupe, the SDBE's strategic lead advisor for Collective Worship, RE and Spirituality. It was led over two days, one session in the late afternoon and the second session was in the morning to give schools a choice over date and time.
It was attended by teachers and headteachers from across the Diocese, who were also given the opportunity to pause and reflect at the start of the session to a piece of music Christ has no body but ours by David Ogden. 
If you too wish to spend a moment or two in reflection, the Youtube link is here. 
The focus of the training was to explore how schools can involve children and young people more in the planning, leading and evaluation of collective worship. Resources and ideas that schools have been trialling with classes/bubbles were shared. 
The feedback from those who attended was very positive - saying that they found the session useful and valued the opportunity to share knowledge with others, to reflect on the previous half term and to learn something new to apply to next term.
We are looking forward to hearing from school leaders and clergy how the voice of children and young people is being included in the development of collective worship in schools.