DSAT MAT Spotlight
As part of a new campaign we are highlighting a MAT a month, this month is DSAT!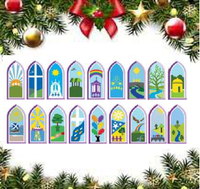 DSAT is a Multi Academy Trust which comprises of 22 Church of England Academies, their CEO Mark Lacey had the following to highlight;
"Undeterred by the current circumstances, the family of schools that make up the Diocese of Salisbury Academy Trust, came together to celebrate their Christian character and the special time of year with their first ever Trust-wide carol service.  Ordinarily this would have been a logistical nightmare.  This time, the only nightmares were whether the technology would work!  Thankfully it did!  DSAT now has 22 schools, 4000 children and around 700 staff.  To see so many people come together was both moving and exhilarating as the schools truly celebrated what it means to belong to something bigger.  The schools, their leaders and staff, have all drawn tremendous strength from being part of something collectively during 2020 and this was a perfect celebration to end with.  The theme was 'Our DSAT Community' and featured children in Year 4 from each school.
Organised by Headteacher at Shrewton, Emily Mullord, the event also included Rev. Keith Brindle and Rev. Richard Saint from St James' in Devizes, who led everyone in prayer.  Mark Lacey, CEO of DSAT, spoke about the impact of a census, and the birth of a Saviour, on the small community of Bethlehem over 2000 years ago; how this compared to the huge impact we have all seen on our communities over the past year; and the opportunity to find hope in the same thing that the shepherds found hope in so long ago.  He also led the children in a round of applause for all their teachers have done for them this year, and a collective three cheers for the Headteachers rang around the diocese!  The teachers responded with their own applause for the children who have demonstrated such amazing resilience this year."
Keep doing what you do best DSAT!