Confirming the Vision
5 former Seend Primary School pupils, now at secondary schools, have recently been confirmed.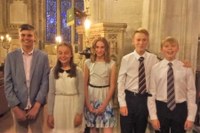 Headteacher Jackie Chalke says:
"At Seend C of E Primary School, we aim to inspire the members of our community to follow God's light and, as a result, form caring relationships, have high aspirations, embrace all opportunities, appreciate diversity, give generously and show environmental responsibility. In achieving our mission, we can all make a positive contribution to our global society.
"This vision is underpinned by John 8:12 "I am the light of the world. If you follow me, you won't have to walk in the darkness, because you will have the light that leads to life."
"As part of our vision, we work hard to encourage children to make up their own minds about their faith, through providing a broad RE curriculum, exploring big questions, and sharing our core Christian values and vision through not only our daily act of worship but through our curriculum.
"It was very heartening, therefore, to witness first-hand the prolonged impact of our school's vision on children who have moved on to various secondary schools, most of which are secular.
"As head teacher of Seend, I was invited to attend the confirmation of 5 ex-pupils now aged between 12 and 14 and was so proud to see that the experiences of Seend C of E Primary School have helped them take this next step in affirming their Christian beliefs and in being admitted as full members of the Church.
"They continue to follow the light that leads to life and show that the school's vision and values are embedded in their daily life."