Commissioned into school governance
For Dan Roberts and Julie Walker, the evening of Tuesday 8th October was very special. It marked the beginning of a new phase for them both in their life and work in schools in our Diocese as Julie was commissioned by Dan and the Revd Wendy Cooper into her role as a governor at Ludgershall Castle Primary School (LCPS).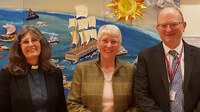 The Revd Wendy Cooper, Julie Walker, and Dan Roberts
Although Julie has been working with LCPS for 12 years and a governor for 5 years, and Dan has so far helped to commission over 300 governors into their role since these services were introduced as part of training in 2018, the moment when Julie stood before Wendy to receive prayer and blessing will be one that both Julie and Dan will always especially treasure in their memory.
The journey to this moment began when, as Julie says (and Dan agrees), "God caused us to meet" at St James Church in Devizes on the occasion of Julie's reappointment to the role of churchwarden at the Archdeacon's Visitation led by Archdeacon Sue.
As Dan began to chat with Julie and the Revd Tim Laundon before the service on that day, an excitement amongst them began to grow as they realised that this 'God-incidence' was leading them into a thrilling journey together.
From his personal experience of both roles - though not at the same time - Dan acknowledged to Julie how full of respect he was for folk like her, who undertake the role of a school governor alongside other huge roles, such as being a churchwarden. In his role at SDBE as Foundation Governor Adviser, Dan works with and trains governors from church schools across the Diocese.
He says:
"I became instantly keen to look for a way in which Julie's calling into her role as a governor could be similarly recognised and supported.
"Since Ludgershall Castle Primary is not a church school, if it had not been for the occasion of us meeting, then Julie's attendance on the training course for governors, and her subsequent commissioning into governance as a form of ministry, would never have happened."
It is hoped that this first Commissioning of a governor from a non-church school will be the first of many. Both Dan and Julie believe, as do many others, that this is a vital way in which those who have a relationship with Jesus can 'live out His transforming presence'. It is hoped that this will encourage others to ascertain for themselves if being a school governor is something God is calling them into, and more folks enacting and responding to this vocation will further enable and establish a deep and lasting relationship with ALL schools.