Believe, Achieve and Grow
Ofsted has praised one of our Wiltshire primary schools for enabling pupils to 'live by the motto believe, achieve and grow' as the school is graded 'Good' in all areas.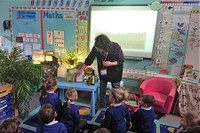 The Shrewton CE Primary School community are celebrating following their recent Ofsted inspection, which saw them rated as 'Good' across all areas.
The school, which has been commended for their drive to embed a bespoke curriculum that enables 'pupils to build knowledge well over time' reports that all pupils, 'are well prepared for the next stage in their education.'
Headteacher Emily Mullord, who was appointed in September 2018 after the school joined the Diocese of Salisbury Academy Trust commented:
"We are truly delighted with the outcome of this report and how it accurately represents our school, the progress that we have made and how clearly it captures our ambitions for the future.
"It is a privilege to lead a school where all stake holders live out our values and are committed to our school pledge, 'The Shrewton Way' which was acknowledged to be 'at the heart of pupils' experiences.' This outcome really is a culmination of the hard work and dedication of our whole school community from Trust level through to staff, pupils, parents and other links that we have made and grown within our local area."
The Chair of the Local Governing Board, Gina Vandeleur said: "It was a joy to hear our team being praised for how well they know our children and as a result how well they and their families are supported which consequently has created a happy school where everybody feels welcome and appreciated."
Following their visit on 12th and 13th February 2020, the inspectors reported that since their appointment, senior leaders have led the school with determination to see it improve, stating that they have 'brought the school community together so that their high ambitions are realised through the everyday experiences of the pupils.'
The report goes on to praise the priority that reading has in the school providing a window into all learning. Inspectors found that children 'love to read and find joy and wonder in books.' Similarly that pupils are given opportunities to learn about customs, cultures and religions from around the world which 'prepares them well for life in modern Britain.'
Mark Lacey, Chief Executive of the Diocese of Salisbury Academy Trust said:
"This report is a fantastic achievement for the school. It has been on such a journey over the last 3 years and we could not be more proud of having the school in the Trust. Mrs Mullord has been such an inspiration and the staff, governors, parents and community have all done so much to get the school where it is today for the good of the pupils. The children of Shrewton are wonderful and now have the school they deserve."