Back together through song!
The children and staff of Holy Trinity CE Primary Academy have met again to create a 'virtual choir' to commemorate the 75th anniversary of VE Day.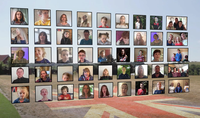 Accompanied by Gwynnifer Henning & Patrick Williams, the school has produced a video to commemorate VE Day 2020 through the singing of 'We'll Meet Again'. This has been made possible through the involvement of the whole school family and the creative use of technology.
The School's Christian values are Compassion, Aspiration, Courage and Joy. We are sure you will agree that all involved have brought joy to others through the singing of this song, and that the video, which you can watch here, will provide a lasting memory of this time of partial school closure 75 years on from VE Day.