"A very good start!"
One Wiltshire's school vision - 'Becoming the best we can be' - is being applied to their paperwork, with impressive results.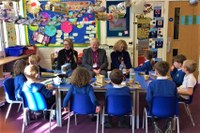 Always looking for different ways to make their school more sustainable, Winterslow Primary School have used Lent as an opportunity to make positive changes to help the environment. To start 'give it up for Lent' the school has gone paper-free for 3 days!
Across the remaining 37 days of Lent, they are going to be taking part in lots of different unique projects including reusing plastic, donating books and recycling their broken pens.
A lot of the ideas have come from the children at the school, although giving up homework for Lent wasn't allowed!
Deputy Head Teacher Lynn Fortis said:
"The aim is to make ourselves more aware of things that we do everyday without thinking about it. So we're reusing more, checking the lights are turned off, closing our doors to keep the heat in, we're becoming more efficient in our use of things that we take for granted."
The Bishop of Salisbury visited the school on Wednesday with 2 friends from Hope Cathedral in Norway. The visit included a tour by Headteacher Rebecca Bone.
Bishop Nicholas said:
"Thanks for a marvellous visit this morning. You really came up trumps. The Norwegians loved the visit, were very energised by it.
"I thought that what we saw was outstanding. There was lots of energy, plenty of participation and a real engagement from the youngsters. It was a very good start to Lent."