"A sheer privilege and joy"
The Revd Philip Bromiley gives us his take on being a Foundation Governor in one of our church schools in Wiltshire.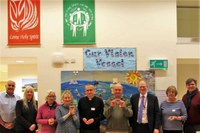 Revd Bromiley is pictured, far right
He says:
"It was a sheer joy to renew my commission to be a Foundation Governor, thanks to the recent training course and service, led by Dan Roberts and Archdeacon Penny. I've been a Governor for nearly 20 years, in various contexts, mostly church primary schools.
"It's easy to say, "Oh no, not another Governor update!", but the Diocese is running Foundation Governor renewal courses that are truly helpful and spiritually nourishing.
"As all Governors know, the goalposts move with every new Cabinet reshuffle and Education Secretary. Dan Roberts took us through the new Ofsted and SIAMS frameworks and then seamlessly, and I have to say inspiringly, invited Archdeacon Penny to pray for us and bless us as we seek to support the Christian vision of our schools.
"Each of us took home a stone, painted by a child, to remind us that Foundation Governing isn't a chore, it's a sheer privilege and joy to serve young people in this way."