A New Library for Reflection and Calm
Five Lanes CE VC Primary School creates a beautiful space for reading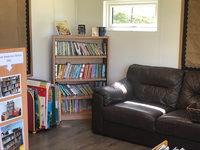 The inside of the new school library - a calm place to read a favourite book.
The school's library was built in the autumn of 2019 when their two sites came together in one beautiful setting. The staff, their families, parents and children worked hard, as a united team, to sort and transfer the books into a purpose-built cabin and to turn it into a space where students, staff and families could enjoy reading and learning together. Friends from the local community gave up their time to categorise the books. 
Rachel Burrows, who is one of the class teachers commented;
"We love having this calm space to read and reflect in, and we especially enjoy sharing our books with the resident guinea pigs in there – it is sometimes easier to read to a pet than a person! We are so proud of all the work that went into our library – and even prouder of all the work that has subsequently come out!"
The school is looking forward to a time after Covid-19 when they can have a proper opening-ceremony to celebrate the new library with everyone who helped make it happen. 
'We are one, we are strongest working together in unity.'  Corinthians 12:14