A Blooming Success
Forest & Sandridge CE Primary School is extremely proud to have been recognised in the 2018 Britain in Bloom awards.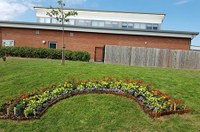 The award fits perfectly with the Melksham school's vision themes of 'flourish, grow, nurture'.
Project leader Mrs Bacon says:
"After months of hard work, we submitted an entry in the Britain in Bloom's 'It's Your Neighbourhood' category, and we are delighted to have received the Level 4 Thriving award, one down from the highest level!
"Our school's project was led by Mrs Kathryn Bacon, who received invaluable help from two parents, Jess Davis and Edith Pantall, as well as our enthusiastic eco-warriors. They created a number of fantastic floral displays that added colour and vibrancy to our school grounds."
Anna Wilcox, Principal, added: "We are so happy for the school, children, Mrs Bacon, and all of the Forest Friends that mucked in."