Getting 'In the Mood' for VE Day!
Crockerton CE Primary School brings its community together through Music and Dance to celebrate VE Day!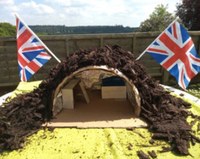 A home made Anderson Shelter
At Crockerton Primary School, the school's Christian vision is about togetherness and this has certainly been lived out in their whole school project which was part of the school's VE Day activities.
Staff, children (past, present and future pupils of the school) and their families learned a dance, led by The Dance Lady, Caroline Aylesbury from Warminster. Clips of parts of the dance routine were sent home for the children and families to learn. They then filmed themselves dancing along in their homes and these individual film snippets were woven together by Nic Ilic, the headteacher, with the help of her daughters, to create the video which has brought the whole community together. The video, showing the whole dance through, was then shared with the children last Thursday to start them off on their VE Day of learning.
Nic Ilic says, 'It was so lovely receiving the video snippets from our youngest reception to our year 6s - some dancing with their older siblings who have left our school.  In fact, our whole day 'off-curriculum' celebrating VE Day was really successful, with Anderson Shelters and bunting being made, too!'
She explained how a poem, written by Mia in Year 6 and shared on Twitter, reached a lady in Croydon, who asked permission to share the poem in a card she was sending to an elderly neighbour. 
Nic said, 'There have been many far-reaching and long-lasting positives to the event and our approach to VE Day, and especially the dance, gave us a chance to see each other again and have a smile as we watched'.
The music is 'In the Mood' by Glen Miller and His Orchestra and you can watch it on YouTube here. We think you'll find yourself 'In the Mood' to sing and dance along!
Visit the school's website here.